What's New: Integrate Your Team Schedule with When I Work
by Scott Van Brunt, on April 3, 2019
At Crew, we consider listening to our customers the most important work we do. We attribute much of the progress we've made as a company to our obsession with listening to our customers and empathizing with them.

One of the things we have heard loud and clear is that our customers want Crew to work seamlessly with their scheduling software. And it's no wonder why. Managing and distributing the team schedule might be the single most important thing that our customers communicate about within Crew. Businesses can only achieve operational excellence when the right employee is at the right place at the right time. Putting the schedule in each employee's pocket and facilitating easy collaboration around that schedule -- by being able to communicate about things like shift swaps, shift covers, last minute changes, etc -- is a key input to achieving that excellence.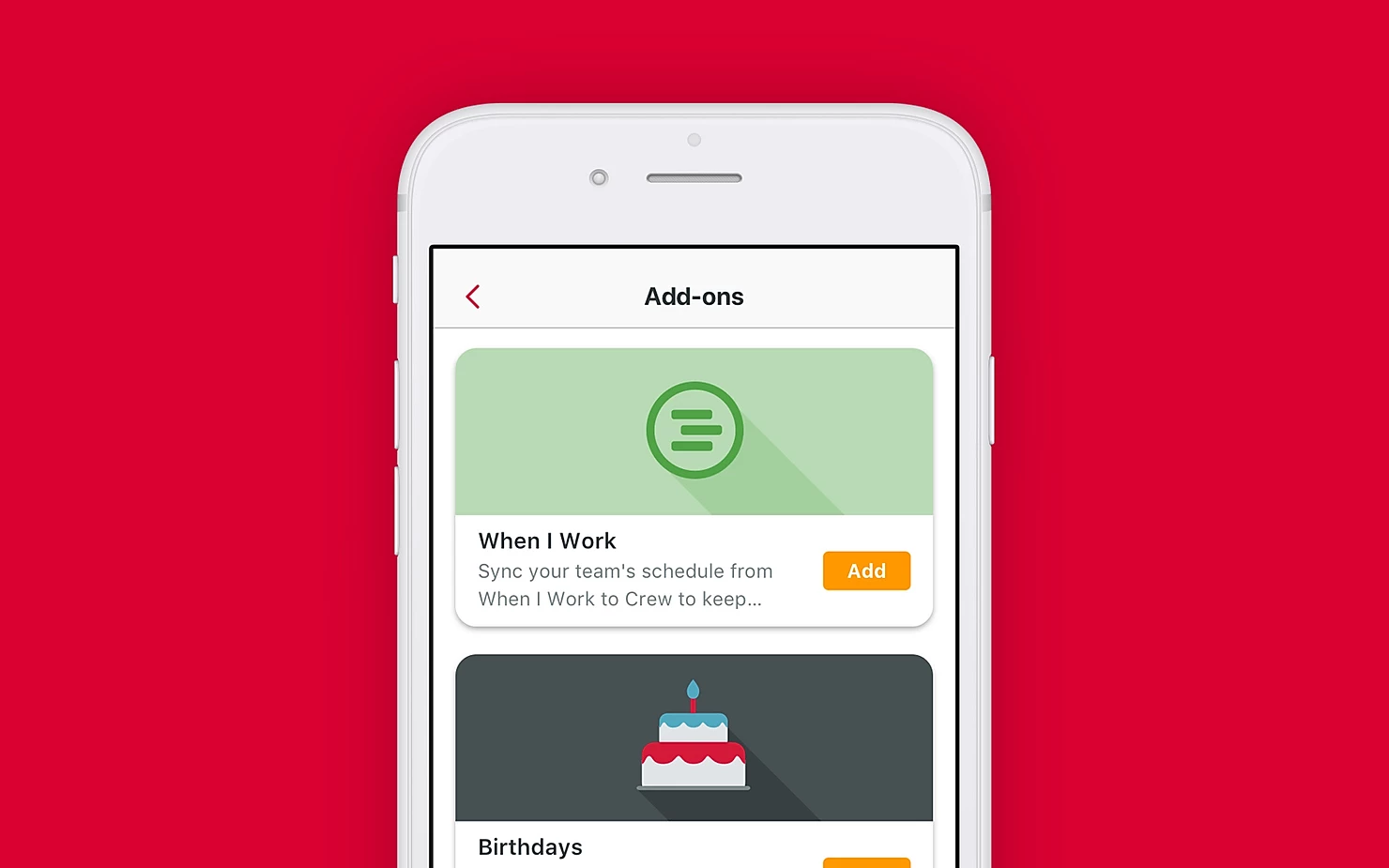 It's why we are excited to be partnering with When I Work, a leader in employee scheduling and labor management software. We share the same vision and passion for delivering powerful, easy-to-use software, empowering frontline workers, and making organizations more productive. With the release of Crew 7.0, Crew users can sync their When I Work schedule with Crew, creating a tighter link between Crew's communication tools and When I Work's scheduling functionality. Once enabled, schedules created in When I Work will automatically appear within Crew and any updates to the schedule will also reflect within Crew.
"Launching a new feature that our customers have been asking for is my favorite part of what we do. To be able to deliver that feature in partnership with a world-class company like When I Work is all the more exciting. When I Work has been at the forefront of delivering powerful employee scheduling and attendance tools, and I believe connecting those tightly with Crew will make both products even more valuable to our users."
-- Danny Leffel, Crew CEO
The partnership is indicative of Crew's vision of being an open platform that works seamlessly with other best-in-class software applications that our customers rely on to run their businesses. We will continue to listen intently to our customers to understand the ways they want Crew to connect to other applications and are thrilled to launch this partnership with When I Work as an important step in realizing that vision.

More information on how to enable the integration can be found in the Crew Help Center. If you have any questions about the integration or how to get started, please reach out to Crew Support via your app or at help@crewapp.com.