What's New with Crew v7.4
by Nate Hajian, on August 29, 2019
We've been busy this summer finding new ways to enhance our Crew app for team messaging, and are excited to share the latest improvements in version 7.4, which is available today in Apple's App Store or on Google Play. Our new release introduces the ability to make your Crew profile public, and expand connections to other people who love using Crew as much as you hopefully do. This means you can use the platform to stay in touch with former colleagues or friends, even if they work for an entirely different organization.

With more than 25,000 organizations relying on Crew today, our user base is growing rapidly, and we know that many people want to communicate with peers beyond the four walls of their shop or company. Now, you can simply tap the "share" button from your profile page to email or text a link to your new web-based public profile. Once a friend connects with you, you'll be able to swap messages, photos, gifs, and more—right from your favorite work app.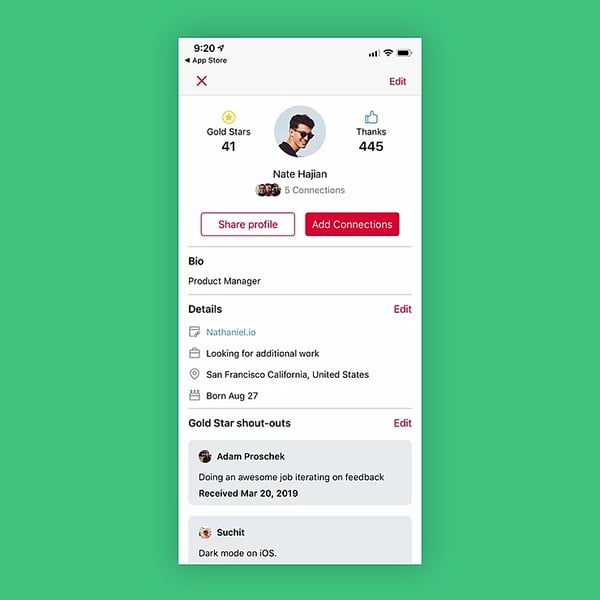 Your public profile will be stocked with details to let people know a bit about you, such as your Gold Star tally and any Gold Star shoutouts from colleagues or managers, as well as your profile image, short bio, birthdate, location, and previous work experience. Just tap the pencil icon from your profile page to select which details you'd like to edit.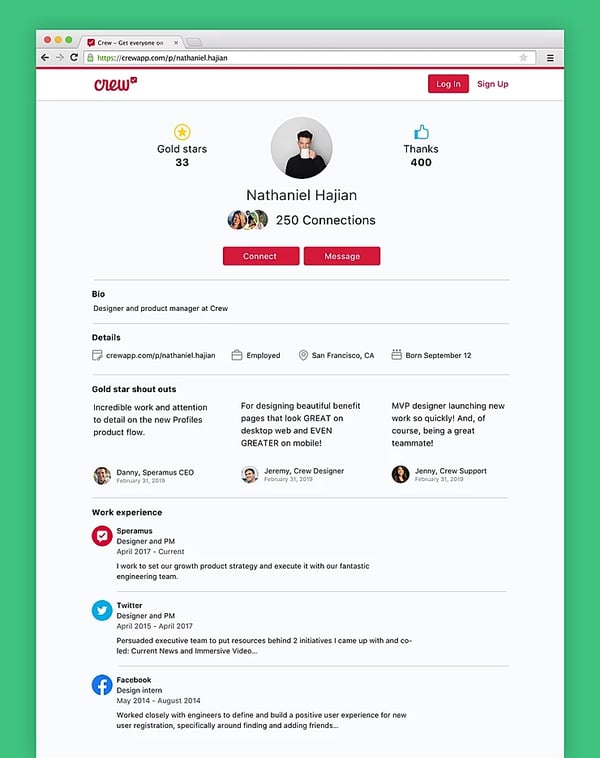 For general managers and business operators, public team profiles can be a great tool for highlighting your top-notch staff and their stellar customer service. By promoting your best talent on your website or social media channels, you'll exhibit a culture of employee recognition and just might attract similarly motivated, hard-working people to join your frontline team.

In addition, this release features a simpler way for some customers to navigate between the mobile Crew app and the Crew Command Center admin experience. For organizations that already use Crew Enterprise, we've added a one-tap link right in the app interface, which you can find at the top of your Admin tab.

And finally, we'd like to note that Crew v7.4 will be the last release to support iOS 10, so if you're still using that operating system on your device, we encourage you to upgrade soon. Stay tuned for even more product updates in the coming months!