by Broc Miramontes, on March 18, 2019
Today we're excited to announce a major update to Command Center, the administrative hub that provides multi-unit leaders with the insight and access they need to manage their team's Crew communications at scale. Command Center is built for corporate and regional leaders who manage dozens—sometimes even hundreds—of locations, each one with its own instance of Crew.

This release is the result of hundreds of hours of customer interviews and product feedback meetings. We hope these changes will make Command Center even more useful.

Role-Based Permissions
Communications can be a delicate balancing act, especially when it comes to sharing the right amount of information with your frontline teams at an appropriate cadence. That's why most Crew customers won't give just anyone in their company full communications and scheduling rights. That said, they usually have several above-store leaders who could benefit from Command Center's direct insight into store operations and ability to broadcast messages to targeted groups under their purview.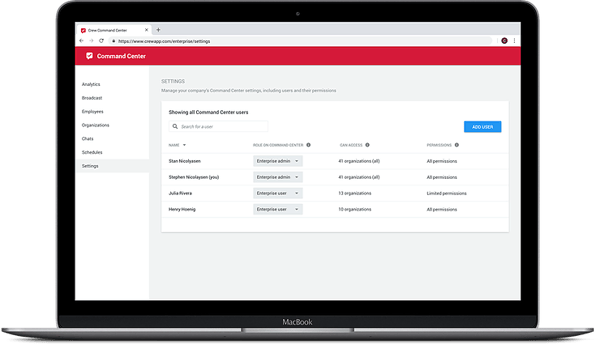 Role-Based Permissions in Command Center

Admins can now use Crew's self-service permissions page under Command Center settings. Here, you'll see all your Crew Enterprise users (along with their roles, organizations and permission settings), can instantly give an area coach or district manager store-specific access to Command Center, and choose whether they're allowed to:
Add/remove users,
Broadcast announcements,
Award Gold Stars,
Delete messages, or
Monitor engagement metrics, schedule postings and store-level conversations (with either a read-only view or full admin rights).
With this feature, Crew Enterprise admins can easily change or assign appropriate permissions with a click. For more details, visit our help pages or contact your Crew customer success manager (who's also listed under your Command Center user settings).

Other new capabilities we are rolling out today include: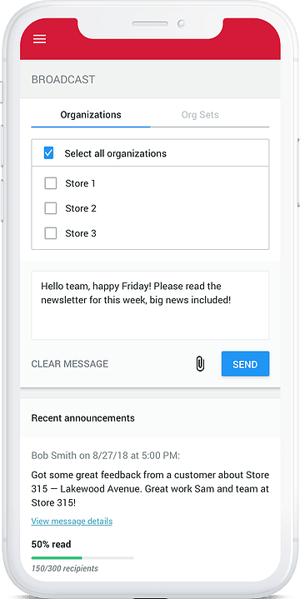 Mobile-Friendly Command Center – Since above-store users are always on-the-go,


more than half of Crew's Command Center traffic comes from mobile devices. We enhanced that experience with a responsive design that automatically adapts pages to whatever device you're using. As a result, you can effortlessly send announcements when you're away from your desktop computer.

Streamlined Broadcast Workflow – We moved your list of recent announcements into Command Center's dedicated "broadcast" tab, where you can not only send messages, but also view past announcements (with their senders, timestamps and readership details). Drill down to review the full text of longer announcements, see which groups each message was sent to, and know who's reading them.

New Communications Analytics – Building on our release of Command Center Analytics earlier this year, we're introducing an additional read receipts metric to help you track engagement. With an at-a-glance view into how many people have read all messages sent to the enterprise, you'll have more insight into the reach and impact of your internal communications.

We will be rolling out these changes to all Crew Business and Enterprise customers over the coming week. If you'd like to learn more about Crew Business and Enterprise plans, please contact our sales team.