What you need to know about the state of the restaurant industry - TDn2K Webinar
by Nicky Budd-Thanos, on July 23, 2019
Last week, we attended a TDn2K webinar on the state of the restaurant industry, and found so many interesting and valuable insights, we wanted to share our top takeaways. From emerging trends in how consumers are spending their dollars to what sets the 'best' restaurants from the 'rest', there are some learnings in here for everyone. Read on…

1. To-go sales are on the rise
With everything moving at a faster pace these days, it's no surprise that to-go sales are on the rise. As TDn2K reported, consumers are increasingly looking for food that is easy to take with them, and the gap between to-go and dine-in sales is growing.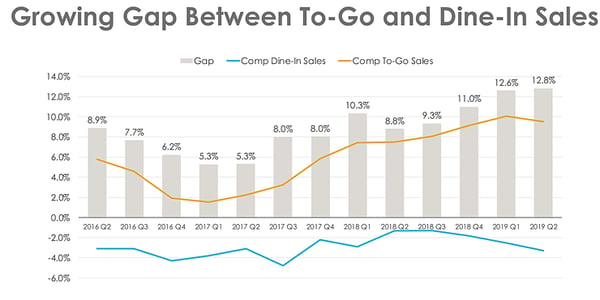 While this certainly presents a big change requiring adaptation, this is also a huge opportunity to adjust to the customer and deliver the service they're looking for.

2. Low turnover is a huge predictor of success
This one comes as no surprise, but is always worth repeating. TDn2K looked at 28 restaurant chains with top performance and drilled down to figure out what it was that set them apart. While they dug into many different attributes, a key predictor of success was an ability to retain talent.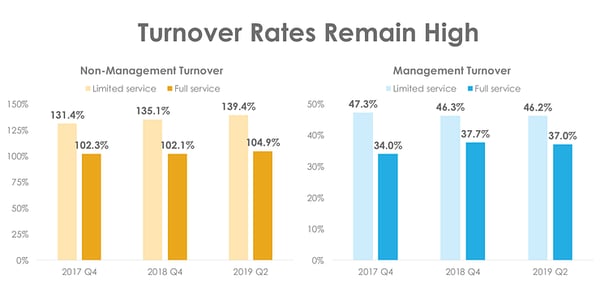 If you and your team are struggling with a turnover, the first best thing you can do is understand where you stand - check out 4 steps to understanding turnover and 7 steps to building a powerful retention plan.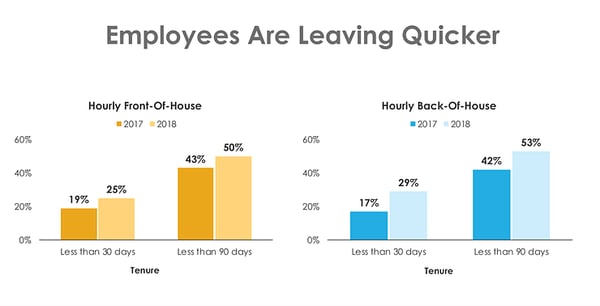 3. Adequate training is a key piece of the guest service puzzle
With turnover rates as high as they are, it can feel counterintuitive to invest a lot of time in training employees who may not ultimately stick around. However, TDn2K found in their research that knowledgeable servers who know the menu and products and can confidently respond to guest questions make a huge difference in the guest experience.

Rigorous training before interacting with guests is definitely worth the time: 48% of the 'best' restaurants invest in this degree of training for new employees, as compared to only 17% of the 'rest'.

4. Restaurants are struggling to engage their employees - and are losing them
Adequately engaging employees is a critical focus area for restaurant operators. When employees strongly agree with the company's mission and purpose, 92% plan on staying with that company for at least a year.

Unfortunately, only 27% of surveyed GMs can say that they strongly agree that the mission and purpose of their organization makes them feel as though their job is important and valued. And, as TDn2K reported, 70% of hourly workers feel that engagement is top-down, coming from their managers. Being able to find a way to engage managers will make the difference between best vs. rest - don't miss these tips on how to engage your GMs.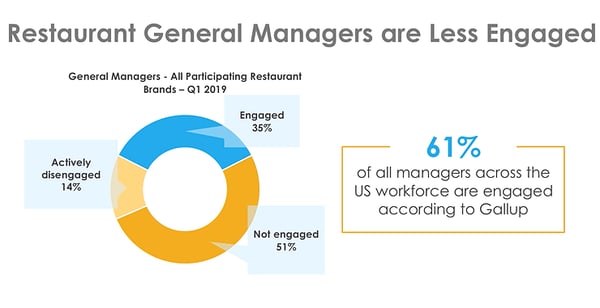 5. Third-party delivery services are both an opportunity and a threat
One of the last trends that TDn2K addressed is a big digital disruption to the restaurant industry - but an ever-increasing one: third-party delivery. There's been an explosion in how often consumers are using this as a way to get their food, particularly in the age 18-24 segment, where 25% have used third-party delivery in the last year.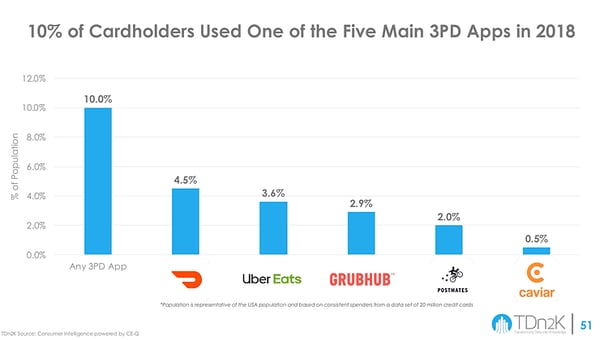 TDn2K was careful to say that it's not necessarily that third-party delivery is a good investment for restaurants - it involves a commission and certainly requires that restaurant operators rethink their staffing to accommodate cooking incremental orders and interfacing with delivery people. However, it's also becoming more and more a foregone conclusion of how consumers behave and so if you're able to see it as an opportunity, there's incredible business potential.

We hope this brief rundown of the webinar is as helpful to you as the whole webinar was to us - check out TDn2K for more great insight on the industry and consumer trends!