Leading the Way: How Healthcare Orgs Are Adopting More Agile Comms
by Sean Oliver, on June 9, 2020
In these difficult times, we find it helpful to look towards organizations that are leading the pack by embracing empathetic communications and operations practices. This kind of communications is more important than ever as leaders across the U.S. and around the world grapple with appropriate ways to show solidarity with people of color, and acknowledge their own shortcomings when it comes to diversity and inclusion in light of the Black Lives Matter movement. At the same time, the COVID-19 pandemic is also forcing healthcare leaders—especially at assisted living communities, medical practices, and hospitals—to elevate their employee communications game in order to keep their heads above water. In the midst of all this, we've been inspired by many examples of healthcare facilities that are building stronger connections with caregivers on the frontline, as well as with patients and their families.

According to the World Health Organization, frontline healthcare workers today are forced to learn on the job with information that changes daily—even hourly. They are now expected to help with all kinds of time-consuming tasks, such as:
Reorganizing wards to open more beds for COVID-19 patients
Taking stock of equipment to lend it across units
Creating educational videos to teach each other how to safely wear protective masks without scarring their faces
Finding replacements when someone gets sick and can't work

As nurses take on much more than their traditional patient care responsibilities, it's especially vital for them to stay in sync with the rest of the organization. And even before the coronavirus hit, research by Kronos Workforce Institute found that fatigue impacts 85% of all nurses—with 98% stating that the work of a nurse is both physically and mentally demanding, and 44% saying their managers don't know how tired they are. This problem is exacerbated by the current outbreak, so the best healthcare leaders recognize the need to not only communicate more, but to also show extra compassion when interacting with their frontline.

"Our priority during any emergency is to support and connect the people who are doing the most important work. We may find ourselves swirling around trying to get everything right, but our focus should always be helping all those who are caring for patients." — Roberta Romeo Shannon, project manager of strategic projects and clinical systems at UConn Health



Sharing frequent, forthcoming updates


Laura Beauchamp, an RN unit manager at Covington Care & Rehab, notes, "Communication is just huge in a huge nursing facility, and Crew helps us communicate en masse to reach everyone involved." For instance, one large assisted living group uses their Crew digital workplace to distribute regular staff training videos to all of their senior living communities on topics such as how to properly wear personal protective equipment (PPE).

McKnight's Senior Living notes that forward-thinking leaders are proactively establishing a communications team who will keep all stakeholders updated; repeatedly and consistently sharing what they are doing to prevent possible COVID-19 cases at their location; and ensuring that employees know the process for screening and reporting symptoms in themselves and residents. Once cases surface, facilities must keep in mind that, "Time is not on your side in controlling information and the narrative. Therefore, a timely disclosure of facts to residents, family, staff members and the public is critical for your reputation." The article also points out that administrators should, "Communicate first to staff, residents and family. Those affected by the situation need to be the first to know. Nothing undermines your communication strategy more than when your inner community learns things from external sources."



Remembering patients' family members


With visitations limited or halted in many assisted living facilities, virtual family visits provide both a great way for patients or residents to connect with their loved ones, as well as a new opportunity for your employees to build closer bonds with other key constituents. In fact, Affinity Living Group, the ninth largest provider of assisted living in the U.S., quickly saw how helpful it was to keep their residents connected to the outside world by offering video calls. After one community made this a regular practice, they shared the tip on their Crew digital workplace, and the rest of the organization rapidly followed suit. Smart healthcare leaders at groups like Affinity aren't just increasing one-way communication, they're encouraging this kind of open dialogue and collaboration across their frontline workforces.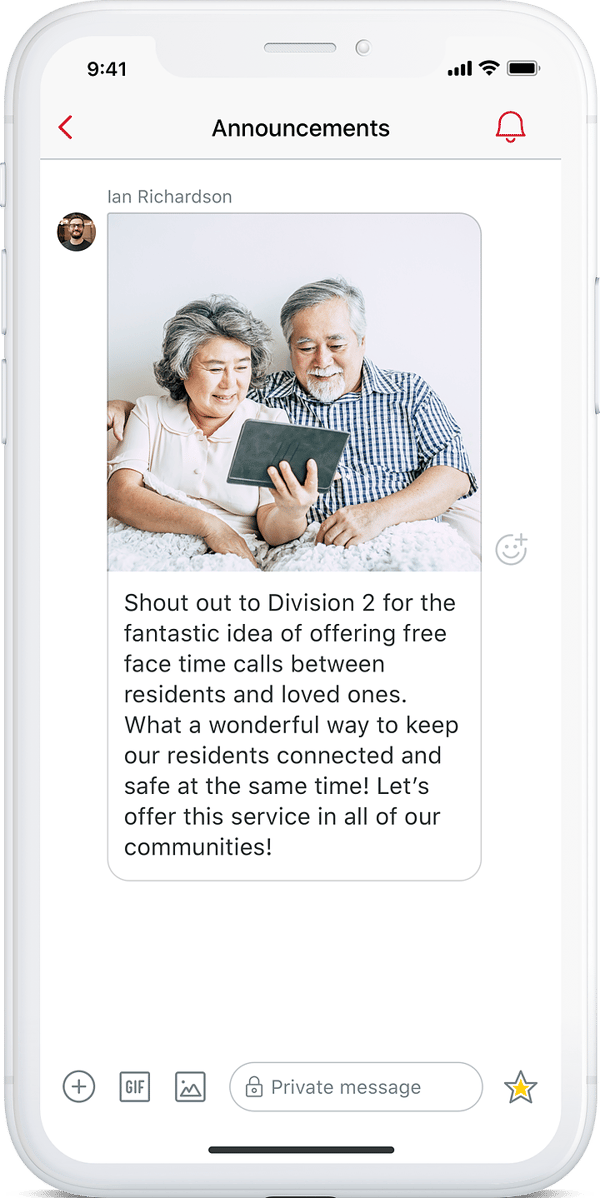 Preparation is the best form of prevention


But how can healthcare administrators keep up with the increasing flow of communication amidst everything else on their plate? Planning is essential. If your organization accepts federal health benefits, you are likely already aware that developing and executing a communication plan is a core requirement of the U.S. Centers for Medicare and Medicaid Services (CMS) Emergency Preparedness rule. This should entail "a comprehensive method to contact staff, including patients' physicians and other necessary persons" and "well-coordinated communication within the facility, across healthcare providers, and with state and local public health departments and emergency management agencies."

Jody Moore, co-founder and principal partner of healthcare consultancy Crisis Focus, shares how crucial prior planning and training is in any type of emergency, commenting that "routinely conducting drills several times a year builds much-needed 'muscle memory' that enables the staff to react reflexively in high-stress situations." McKnight's Senior Living also advises, "We all know that preparation is the best possible form of prevention; communication is the best antidote for fear. Besides operational preparedness, your company should have a crisis communications plan ready to deploy. The reputation and integrity of your organization will be on the line, and every action, or inaction, will be scrutinized once COVID-19 is detected."

We've highlighted several of these healthcare industry learnings in our free eBook, "Healthcare Playbook: Communicating with Impact", which explores actionable tips and other considerations that will help administrators achieve greater reach and engagement with each message they need to deliver. If your team is looking for a real-time communications tool that makes it easier to communicate with impact, please reach out: we are waiving fees for healthcare organizations for the duration of the COVID-19 crisis and are offering one-day deployment and onboarding for new customers. We'd be glad to help.

As always, share your stories with us on Twitter and stay tuned for more COVID-19 resources from Crew and around the web.