Crew Enterprise just got even better
by Evan Purcell, on February 4, 2020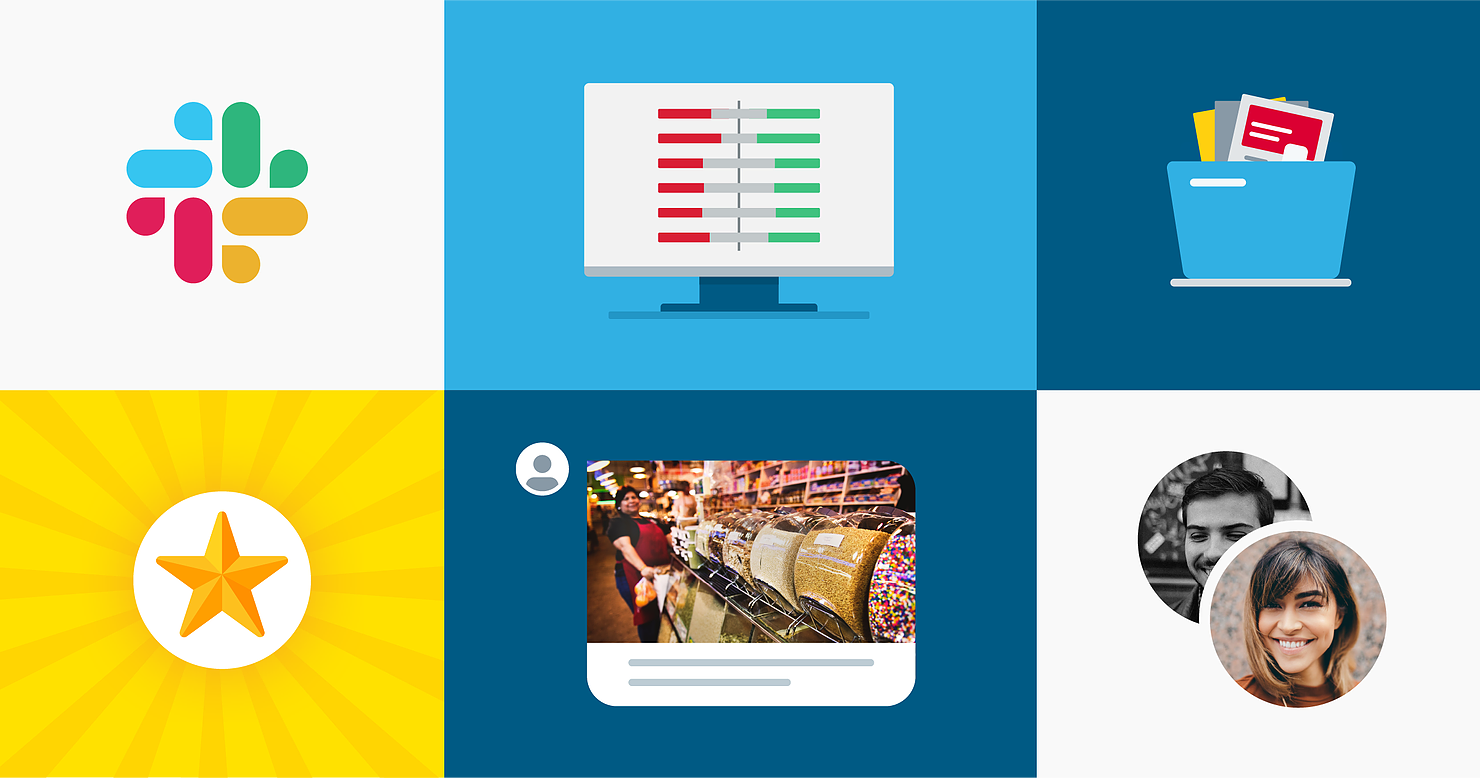 35,000 teams (and counting) use Crew every day to do exceptional work together. Of course, not all organizations have the exact same digital workplace needs. Larger enterprises, specifically, often struggle to unify their work communications, strengthen frontline operations, and manage it all at scale.


That's why we're excited to launch new features designed to make Crew Enterprise even more powerful—from several Command Center improvements, to mobile app design updates, to Slack integration, and more. Yesterday, we held a webinar to demonstrate these capabilities and provide a peek into a few features we'll be rolling out very soon. In case you missed it, read on or click here to watch the recording in its entirety.

New ways to take command
For above-store leaders and executives in corporate operations, human resources, or communications, the Crew Command Center is the epicenter of your organization's digital workplace. This week, we're releasing four major Command Center enhancements that have been highly requested by our enterprise customers.

Enterprise Files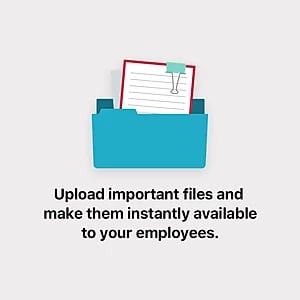 Operations run more smoothly when frontline employees have easy access to the right information right when they need it. Our team files capabilities have long provided a way for individual managers to share key documents with their team members, but didn't address the needs of multi-location leaders. Now, Enterprise Files gives Crew Enterprise admins the ability to share important documents, like training materials, policy documents, and onboarding files, across hundreds or even thousands of employees at once using Command Center.

Deleted Message Retrieval
Another request we've received from enterprise HR teams is for help investigating potential compliance violations. With that in mind, we're giving admins the ability to view messages that employees or managers previously deleted. Simply visit the "Chats" tab in your Command Center, and you'll see any conversations that indicate a "deleted message." In our latest version of Crew Enterprise, admins can reveal those hidden messages with our new "click to read" option.

Shared Groups
Another new addition is "Shared Groups," which we're gradually rolling out to all Crew Enterprise accounts as we type. We see tremendous value in extending enterprise communication beyond typical store-by-store hierarchies or boundaries. For example, many of our customers use Crew to find cross-team shift covers or exchange best practices amongst general managers at different locations. Now, this is even easier to do, because you can create, name, and manage groups directly from your Command Center and be sure the right people are included in the right conversations, no matter which organization they belong to.

Data Export


Now the Analytics tab in Command Center includes the option to download organization-level breakouts for engagement, scheduling, recognition, and other key metrics.



A more delightful mobile app


Communications only matter if they are seen and hopefully remembered. That's why we focus on making sure the Crew app (on both Android and iOS) is fun and easy for the frontline to use.

A few examples of our recent Crew app updates include:

A facelift for the Crew inbox. We've added a slew of usability enhancements to your Crew inbox to help you manage conversations more easily than ever.
More legible image captions. Now when team members share images with captions, Crew places that text underneath the image rather than over the image to make it easier to read.
Conversation file-sharing. Now you can share files directly within 1:1 and group conversations. This feature is iOS only for now, with Android support coming very soon.
Conversation support in Apple Watch. Our latest app update allows you to read and engage with entire conversations, directly from your Apple Watch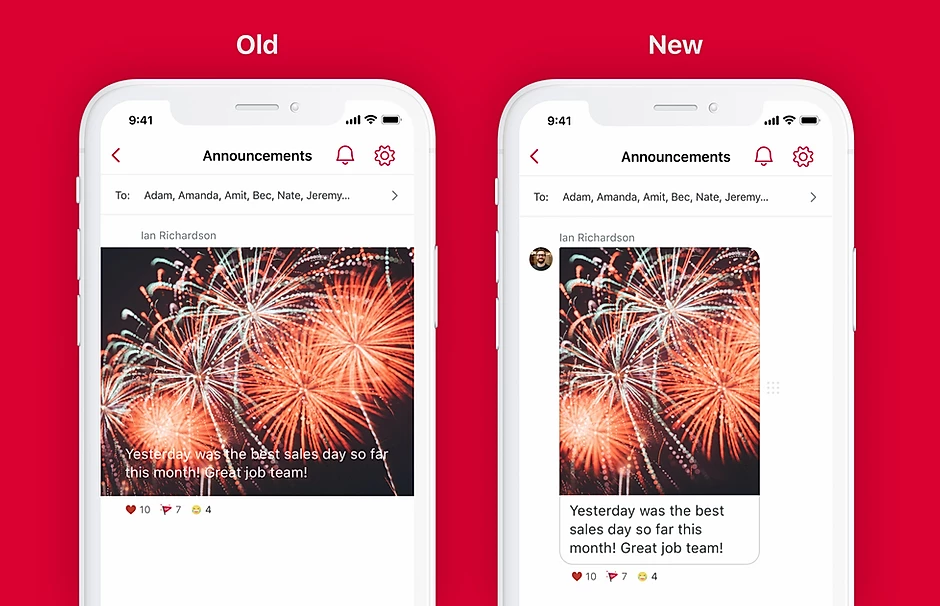 More Integrations


We're always building new integrations to help improve operational execution by streamlining workflows that span multiple systems.



Slack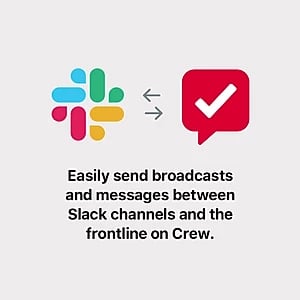 When it comes to internal communications, one of the biggest challenges for enterprises to overcome is the fact that corporate employees rarely use the same tools as the frontline. That's why we're glad to announce our integration with Slack, which links communications between your frontline workers on Crew and their corporate counterparts in HQ.

Crew and Slack integrate in two powerful ways

Broadcast allows the corporate team to send one-way messages directly from Slack into the relevant instances of Crew at the frontline.
Messages connects a Slack channel and a Crew chat to enable two-way messaging between the two platforms.
Check it out in the Slack App Directory.



New Scheduling Integrations


We're also excited to roll out integrations with two highly-demanded scheduling platforms: Kronos Workforce Dimensions and Wizardline Technologies Domino's PULSE™. Both integrations are now available in Command Center for Crew Enterprise customers.



Coming Soon


We're also excited to preview some notable beta features rolling out soon.



Surveys


Crew already provides managers and business leaders with instant access to the stream of conversation unfolding at the frontline. But at scale, it can be hard to sift through the chatter and find the important and actionable nuggets of information.

That's why we're building Surveys, a rapid feedback tool that enables leaders to poll the entire frontline workforce about things like sentiment, operations, etc. and immediately start to paint a picture of the areas for concern. We'll begin rolling out Surveys in the coming weeks and months.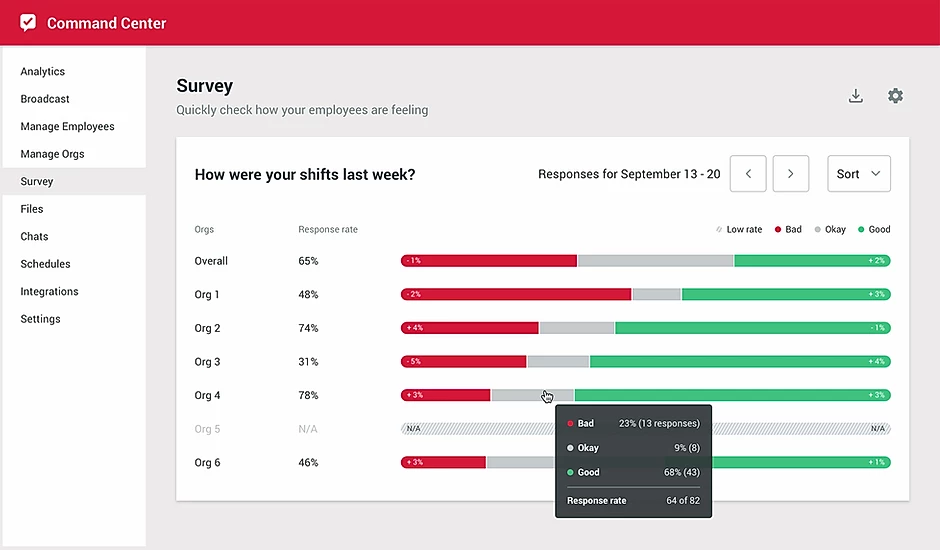 Recognition Controls


Gold Stars have long been among the most compelling reasons frontline employees and their managers love using Crew. In studies, positive motivation (rewards and recognition) consistently outperforms negative motivation (punishment) in motivating sustained, high-quality output.

That's why we're excited to soon begin to roll out a brand new Recognition experience in Command Center, enabling leadership to compare employee performance between and within teams. In addition to that, we'll be providing greater control over who in the organization can award recognition and how frequently they can do so.



Bulk Roster Upload


Crew works best when the entire team has access to the conversation. While we continue to invest in building integrations with payroll and rostering providers to ensure all active employees have access to their Crew chat, we are also excited to introduce support for bulk roster upload no matter what system you might use internally.

We've been excited to watch as large organizations have increasingly turned to Crew to build a truly connected workplace between the frontline and HQ. And we hope these changes will make Crew Enterprise even more valuable.