Strategies for stress-free open enrollment: Webinar recap
by Nicky Budd-Thanos, on September 14, 2020
Last week, we hosted a webinar on how to navigate open enrollment this season without the stress in the third edition of our Mastering Crew Enterprise webinar series. We dug into the biggest open enrollment challenges facing HR leaders - and how to overcome them using Crew's Enterprise product.
From conversations with many of the HR leaders among Crew's customers, we've learned that while the specifics may look different from organization to organization, there are many common threads in the challenges around effective, timely open enrollment: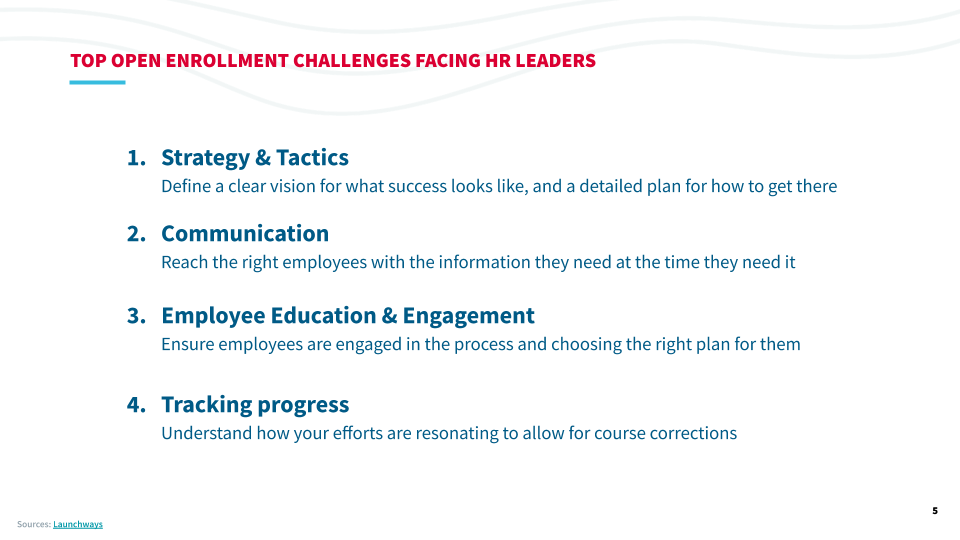 Will Edwards, VP of Sales at Crew and webinar host, talked through these four challenges and then launched a poll asking audience members which of these challenges is most pressing for them as they look ahead to this year's open enrollment period. 57% said that 'employee education & engagement' are the biggest challenge, while 29% reported 'communication' to be the biggest issue. 'Tracking progress' and 'strategy & tactics" are not as top of mind for HR leaders, with only 7% each. With these challenges in mind, Will then dug into four tested strategies that HR leaders can use today with Crew to streamline open enrollment and guarantee a smoother, more efficient process.
In the replay, you can also see the concrete features in Crew that help to address and resolve each of these concerns. For example, the Acknowledgement feature, which lets you request confirmation (both photo and written) from employees that they've seen a message, has been hugely valuable to the Primary Aim team:
"Having Crew during last year's open enrollment was an improvement from the year before without Crew, and this year we're even more excited with the Acknowledgement feature. It gives us confidence that messages have been received, and it will be even more impactful to have Crew during open enrollment this year. Crew has definitely increased our compliance for team members signing in and signing up for benefits." - Jasna Keller, HR Director, Primary Aim (74+ locations, 2500+ employees)
For more insights on best practices and to learn exactly how to run a stress-free open enrollment this year and beyond, check out the replay of our third Mastering Crew Enterprise webinar, 4 Strategies to Stress-Free Open Enrollment..
Designed as a deep dive into Crew's advanced employee productivity product and feature-set for large, distributed teams, our Mastering Crew Enterprise series gives you best practices and tactical steps to get the most out of your organization's usage of Crew. In case you missed our other MCE webinars check them out: learn more about Urgent Frontline Communications and How to Build a Recognition Culture.