State of the frontline: workforce adaptability reigns
by Sean Oliver, on October 6, 2020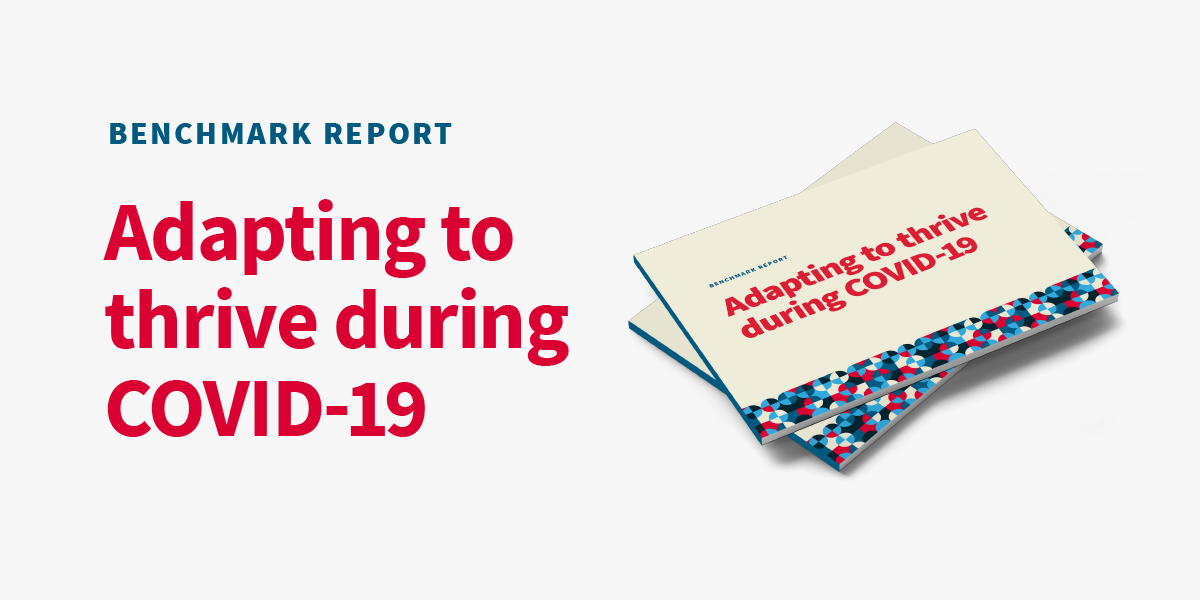 The COVID-19 pandemic has tested the resilience and agility of nearly every organization worldwide in 2020. In particular, businesses that lean heavily on an essential frontline workforce have been faced with severe upheaval amid never-ending disruptions to their day-to-day operations. We decided to take a look behind the curtain in order to find out more about how various workforce segments have adjusted over the past six months, and get a sense for what teams are doing to prepare for the ever-changing "normal" as we all continue to juggle the various long-term impacts of this pandemic.
We surveyed over 600 operations leaders and frontline staff, asking which employees in their organizations adapted best to the COVID-19 crisis—and why. More than half said their frontline employees were the most adaptable, with frontline managers coming in second at 23%. This is a good sign since, in many businesses, an overwhelming majority of the workforce is made up of these two segments.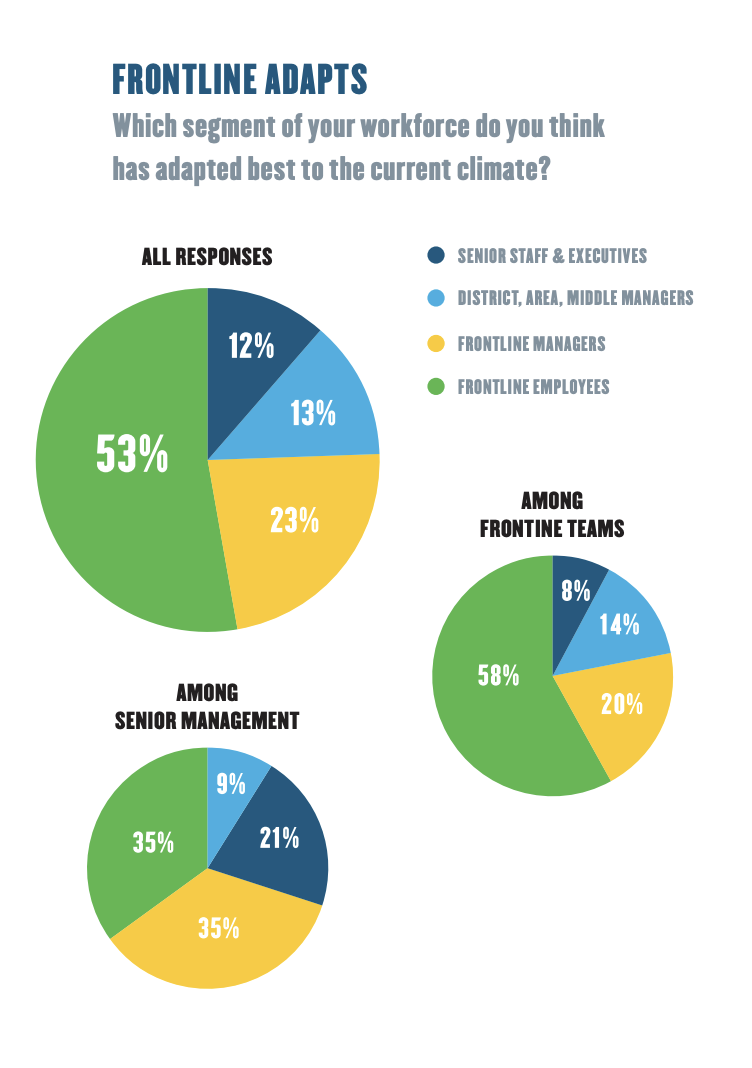 Fewer than 12% of our respondents said their CEO and senior executives adapted best, indicating opportunity for improvement amongst the ranks of top leadership, and possibly a disconnect between different workforce segments. Notably, senior management respondents were 2.5X more likely than frontline teams to indicate that their executive team had adapted best.
How does agility vary across industries?
Here are some interesting insights we gleaned when we drilled into the numbers a bit more:
In the food service industry, only 6% feel their senior staff is the most agile (the lowest of all verticals), possibly because these frontline employees have such limited access to (and communication with) leaders outside of those in their immediate region.
On the other hand, in the healthcare sector, 22% rate senior leaders as the most adaptable group, reflecting the vital and highly visible roles these senior healthcare officials play. They tend to be the drivers of operational challenges like procuring personal protective equipment (PPE), and providing safety guidance to both their employees and the community more broadly.
Within retail and grocery organizations, 41% actually said that their frontline managers were the most adaptable group (versus the 35% who chose frontline employees). This is not surprising, considering GM's pivotal role in overseeing customer-facing procedures like new sanitation requirements and contactless transactions, which are constantly evolving.
What fosters or hinders adaptability?
Of course, we wanted to get a sense for what was working (and perhaps not working) among these groups of highly agile workers. People said the most important factors helping their workforce adapt to the crisis were having supportive and understanding managers and teammates, followed by effective training. However, respondents from long-term care, hospitals, and other acute care providers felt differently, with most of them viewing effective training as the dominant contributor to agility, and access to timely information as the second reason for success. This makes sense, given the precision required in their work.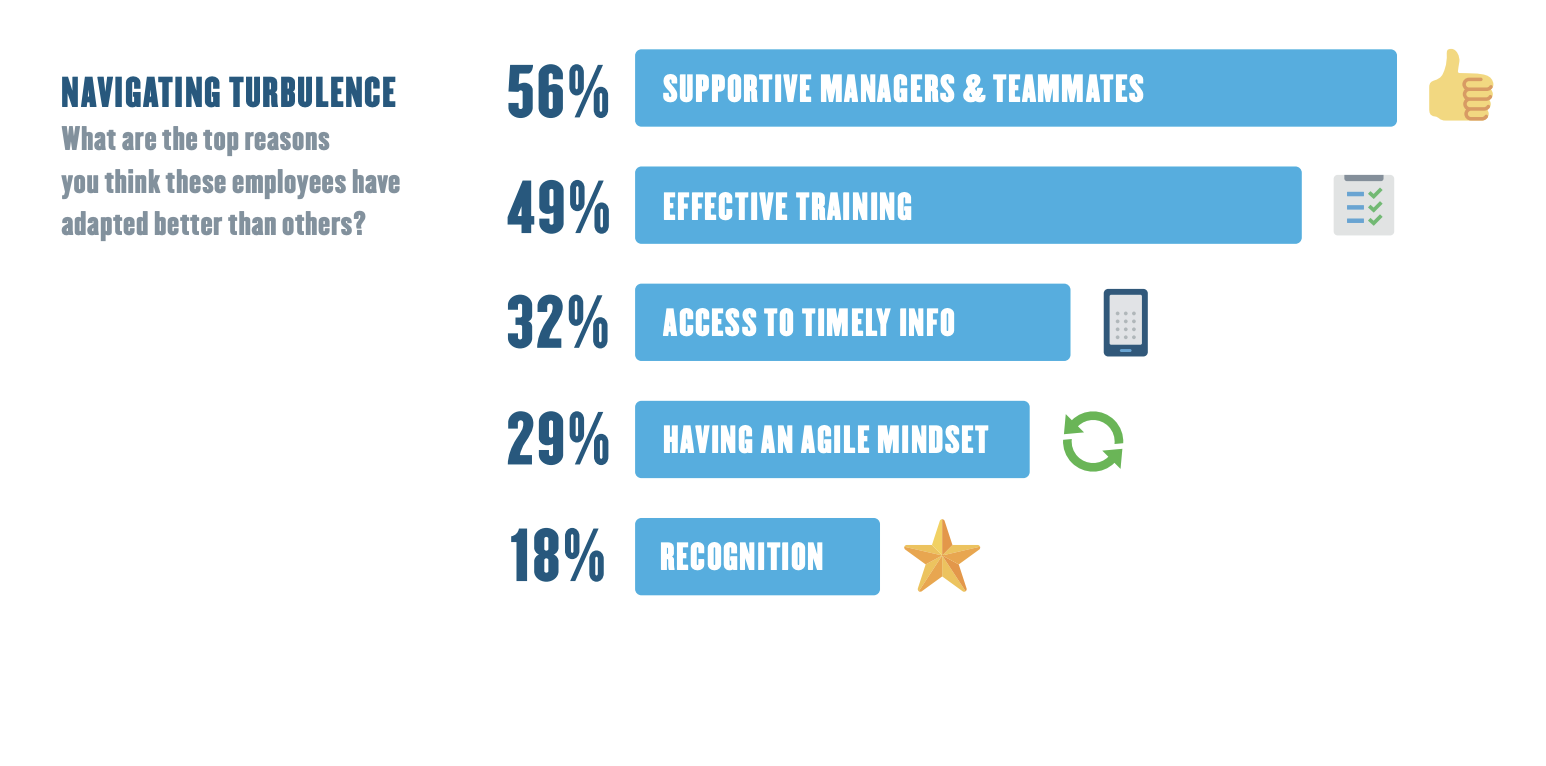 Half of senior management—especially those in healthcare and retail—ranked an agile mindset as one of the top three factors contributing to employees' success during the pandemic. Specifically, 86% who were in a top management position themselves said agility was key, while 75% of the frontline respondents who chose senior staff as most adaptable felt it was due to having timely information. Meanwhile, no segment ranked recognition from managers, peers, or customers as a top reason for agility.
At least in the early phases of the crisis, it appears that relevant information and morale support played the biggest role in supporting employee agility. That said, as the pandemic continues and those basic needs are largely met, workers will most likely be more motivated by esteem and self-actualization (see Maslow's hierarchy of needs for more on this), so organizations shouldn't ignore the importance of emphasizing recognition and purpose.
Communication is king
Across the hundreds of people we surveyed, one theme kept bubbling to the top when we explored which best practices helped people effectively navigate COVID-19: communication. In fact, 55% told us that communication with frontline teams had the most positive impact during COVID-19, followed by one particular type of communication—new training practices and materials. There's no doubt that employee communication is mission-critical during a crisis, as failing to get the right information out to frontline workers in a timely manner can have disastrous consequences.
Given that, it's a good thing that three out of four respondents (and 88% of senior management) told us they found themselves communicating more with frontline managers, primarily about safety guidelines and procedures. Keep in mind that any gaps in information, or even seemingly benign disconnects in the sentiment of corporate leadership vs. frontline teams can be difficult to bridge even in the best of times. Today, constant, intentional communications is required in order to build organization-wide alignment, especially given the current barriers to ad hoc, in-person connections.
To learn more about how your own workforce stacks up against its peers, download our free benchmark report: "Adapting to thrive during COVID-19." In it, we share Crew's findings about how companies are navigating the health crisis, adopting new best practices, and preparing for the future. As always, feel free to share your own stories with us on Twitter and check out our COVID-19 resources.