Experts predict: How frontline organizations can thrive in 2021
by Scott Van Brunt, on January 5, 2021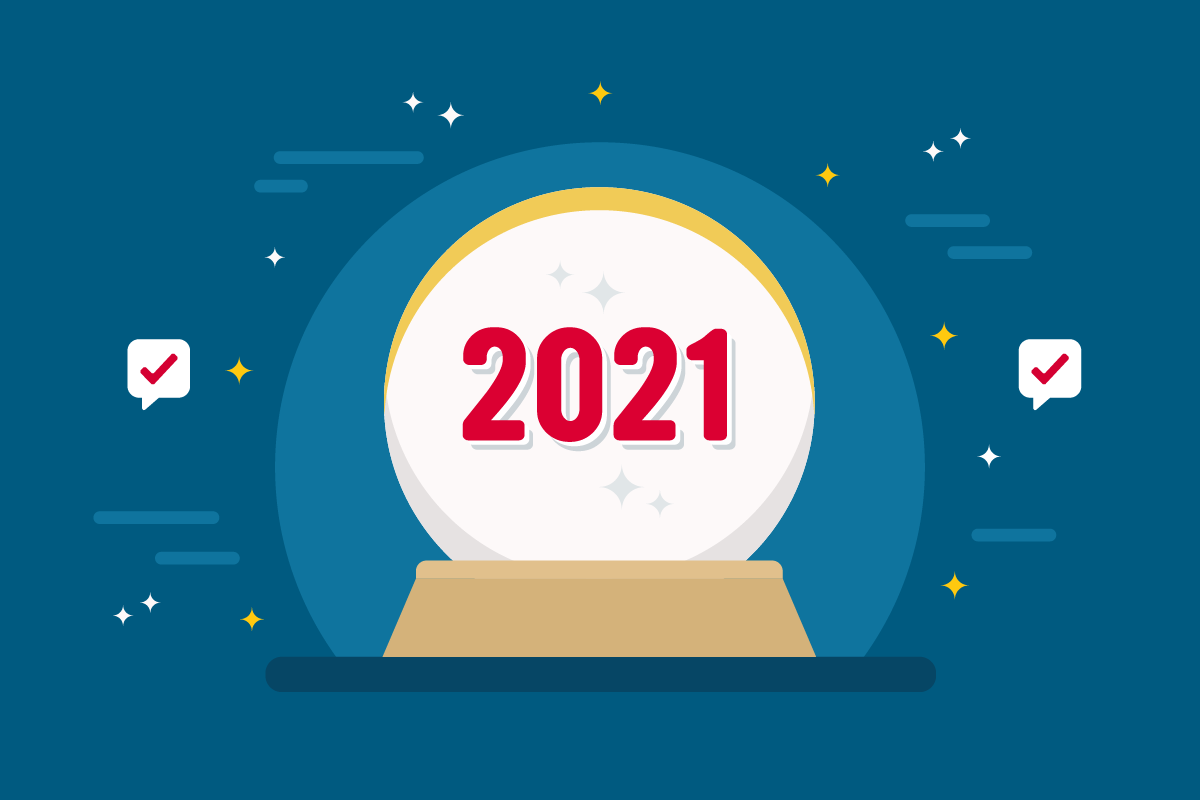 We have always been passionate about keeping large, distributed organizations connected, from the frontline storefront to the central office. But in 2020, this mission took on a much deeper importance. All at once, organizations across all industries suddenly felt the impact of not having a fast and efficient frontline communication medium. At the same time, frontline employees stepped up in heroic ways to keep the world going, especially those at essential organizations like hospitals, grocery stores, long-term care facilities and more.
So what will 2021 bring? If 2020 has taught us anything, it's that while we can't truly know, we must do what we can to prepare.
We've spent countless hours with customers learning about their plans and their needs for the future, and when we put all this together, we were surprised to see the same themes arise across industries. Read on for our top three predictions of what we expect to see in the new year, and how to make sure you and your team are ready to handle it:
Employee communication and collaboration is still king
The urgent need for team members to communicate in real-time will continue to be more important than ever. While vaccines have been approved in record time, experts agree that the pandemic will continue to be a major part of our lives well into 2021.

Getting back to 'normal' - whatever that may look like now - will come with its own host of challenges and nuances. A greater proportion of the population will be vaccinated, bringing policy changes. However, there are also new variants of the virus - like the one recently discovered in the UK - that are causing governments and businesses to have to quickly reverse course on reopening measures and precautions to keep their communities safe. All of these considerations will once again shine a light on the importance of company-wide, real-time, bidirectional communication.


High ROI lies in embracing employee mobility
Employers who understood and acted upon the need for frontline employee mobility had an easier time navigating the pandemic and will now have the advantage of a system to allow them to keep their frontline organizations focused on changing priorities and procedures as they confront continued uncertainty and change.

While that investment may have been directly related to one area in particular - like communication or shift swapping and schedule flexibility - with that infrastructure in place, these organizations will see ROI from adding on other modules. Some examples of the modules you might consider include employee recognition for bringing team members together and task management for ensuring operational excellence and compliance in the face of rapid procedural change.


Employees and managers will need to be more adaptable and resilient than ever
Even with vaccines in play and the potential to significantly minimize the threat of COVID-19 on the horizon, the effects of 2020 are likely to linger and customer behavior has shifted in many ways, possibly permanently. For example, Target saw

curbside pickup orders grow

700%

in just one quarter in 2020, a massive change that required employees to quickly get up to speed on new procedures for preparing inventory and managing the process for curbside pickups. The demand for contactless transactions and the explosion in e-commerce is likely not going anywhere - and teams must be ready to accommodate these shifts in consumer behavior.

Frontline organizations who have embraced these changes have developed valuable skills: resilience, flexibility and focus. Keeping an emphasis on continuous training and evolution of skills to keep up with new roles in e-commerce, fulfillments, logistics and more will make the difference between surviving and thriving in the new year.
We also turned to three of the experts who shared their insights with us throughout 2020 to weigh in with their predictions for what 2021 will bring - and how large, distributed organizations with a majority of their employees on the frontline can thrive.

Bob Clements, President of Axsium Group, joined us for a

webinar in October of 2020 on the importance of frontline employee mobility

. In it, he stressed how COVID-19 had made the need for frontline organizations to develop and implement an accompanying strategy absolutely critical. Here are Bob's core predictions on what workforce management will look like in 2021:



Communication Tools will Continue to be Valuable
Instant, two-way communication between employers and employees has proven critical for organizations to adjust to the changes wrought by the pandemic. The stay-at-home orders, reduction of workplace capacity and ever-changing, local restrictions on what business and individuals are allowed to do have underscored the importance of employers being able to communicate with their workers – whether at work or at home. This communication must be bi-directional. Employees who have concerns and questions about work need a method to raise them to their employer wherever they are. Organizations that have yet to implement such communication tools will have to adopt them in 2021.

Health & Safety Processes will Become Permanent
Workplace health and safety protocols that were implemented under COVID will largely stay in place long after a vaccine is widely available. After all, months of living with the coronavirus has had a long-lasting impact on our psyche and personal habits. Furthermore, not everyone will choose to be vaccinated, vaccines will not be effective on everybody, and future strains of the virus may not be as readily mitigated by available vaccines. Therefore, handwashing, social distancing, and mask-wearing will continue. Employers will need to continue the rigorous cleaning and sanitation procedures implemented during the pandemic – all of which means continued training and communication for staff.

Cost-Savings will be a Top Priority
For employers, health and safety protocols are expensive, contributing to an organization's COVID overhead. Beyond the cost of personal protective equipment and cleaning supplies, handwashing, social distancing, and other sanitation procedures increase labor costs and decrease employee productivity. Employers will need to find ways to reduce costs and increase productivity while maintaining the health and safety of their workforces. Some efficiency can come from redesigning and streamlining procedures that were hastily implemented during the pandemic. More improvements can be realized by leveraging technology to unburden managers and employees. For example, self-scheduling and task management saves time and increases job satisfaction for hourly workers. The greatest and longest-lasting change will come from the adoption of artificial intelligence and robotics.

Machine Learning and AI will go Mainstream
Before the pandemic, artificial intelligence and robotics was reserved for very large enterprises and had growing, but limited, real-world use. In the year or two leading up to the pandemic, commercial software applications that use AI and machine learning to automate manager and employee decision-making began to appear on the market but had not been widely adopted. Most organizations that I spoke with acknowledged the potential benefit from AI and advanced automation but did not intend to adopt it for three to five years. Coronavirus and its related costs are accelerating corporate timelines and those organizations looking to not only recover but thrive in 2021 and beyond will begin using advanced automation in ways that seemed like science fiction before COVID-19.

Gary Hawkins, Founder & CEO of CART (Center for Advancing Retail & Technology), joined us in August 2020 to discuss the

critical ways COVID-19 was transforming the retail space

- and the concrete tactics retailers could adopt to more successfully navigate the crisis.

Below, Gary shares excerpts from his new white paper,

Retail 4.0: The Age of Metamorphosis

, to illustrate his predictions for 2021. For Gary, the biggest trends for the year ahead will involve

an acute focus on digital transformation and an openness to innovation in the workplace.





That retail is becoming digitized and beginning a radical digital transformation is beyond doubt. There are really only two questions retailers have to ask themselves: 1) How much time do we have to digitally transform? 2) Can we?

Supermarket retail has been very resistant to change over the years, but whether that was due to retailers' response to change or the fact that FMCG (fast-moving consumer goods) retail economics are incredibly challenging for new interlopers is open to debate. What is beyond question is that the supermarket industry has historically been slow moving, and retailers have typically adopted a 'follower' strategy. But we now live in a world where tomorrow may no longer resemble today and following may no longer be the best option.

Retailers believed that being a 'fast follower' helped lower the risk of adopting new innovation. But in today's world of exponential change, this risk mitigation is an illusion. As Davenport called out earlier, in an age of AI-powered capabilities, being a slow adopter becomes increasingly dangerous as the leaders open up growing performance gaps. And if the change from being a follower to a leader is not challenging enough, many retailers are compounding their headaches by failing to realize the promised benefits of deploying new technologies and solutions.

Different thinking is required as we enter Retail 4.0. Successfully navigating a digital transformation requires far more than just digitizing existing processes and practices. Companies seeking to create exponential value require different leadership skills and a different organizational culture.

Companies of any size across the massive retail industry must change their culture to embrace new possibilities, and ongoing, ever-faster change. This challenge goes beyond business: People everywhere must prepare for a world of exponential change...without truly embracing the idea that business transformation is possible, companies will be unable to make the transition to Retail 4.0.

Retailers can put in place some guardrails to help navigate their uncertain path, a handful of key trends that can guide retail's journey into Retail 4.0:

Seamless / cohesive digital experience: Without question, digital customer engagement is massively important to FMCG retailers. Without it, retailers will be unable to access the value creation resident in creating digital networks across their shoppers. Fundamental to digital engagement is providing a seamless, cohesive digital experience across channels, devices, and touch-points.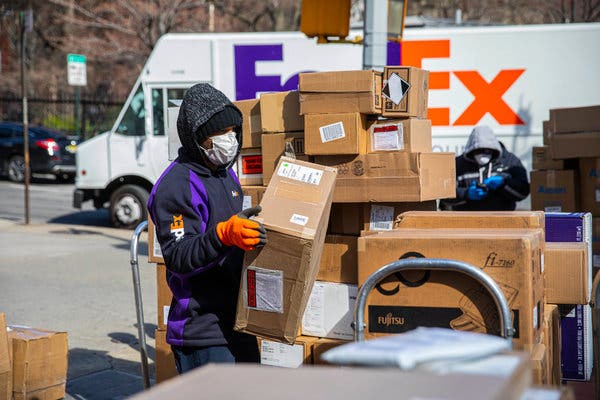 eCommerce will continue to grow: The COVID-19 pandemic accelerated years of eCommerce growth into a matter of weeks. While that growth may moderate as we continue through and come out of the crisis, eCommerce will continue to advance, bringing an increased focus on profitability, which in turn means accelerating automation.

Everything in real-time: Data is increasingly moving in realtime, making batch processing of data seem archaic. One of the maxims for retail going forward is real-time.

Automation everywhere: If work or a business process can be automated, it will be automated; the only question is how soon. Retailers must continuously be looking to automate any and all processes for increased efficiency, improved results, and growing digital networks.

Those key trends can help guide decisions going forward over the next several years and can act as the guardrails to help keep technology decisions on the right path.

To read the rest of these key trends and hear from Gary on how he envisions retail in 2021, including his three concrete steps for preparing for the future, download his white paper here: Retail 4.0: The Age of Metamorphosis.


Alex Budak, UC Berkeley lecturer and leadership expert, joined us in April 2020, just as the realities of the COVID-19 pandemic were beginning to set in and the need for organizations to be both flexible and resilient was more critical than ever. With this top of mind, Alex discussed the concept of 'Changemakers' in organizations. Changemakers welcome the challenge of creating better ways of working rather than relying on antiquated processes. He shared how anyone in an organization, including frontline team members, can be changemakers in their own sphere of influence, and how leaders at these organizations can cultivate a culture of changemaking within their workforce.



2021 will be the year of the Changemaker. 2020 brought disruption to every single facet of our lives, personally and professionally. 2021 is now the time we start to get perspective on just how radically things have shifted and begin to rethink how we construct our new path forward collectively.

Whether front-line or executive, there are huge opportunities for individuals who can make sense of the changes and then lead forward in an inclusive manner. There will be a lot of pressure to go back to "business as usual," but in 2021 we must reimagine what this new usual should be instead of regressing back to what is more comfortable. 3 crucial skills for changemakers to master in 2021:
Creating "psychological safety" for those around us;
Launching small experiments to test new ideas before going big.
Long-term thinking to make big bets for the future, looking beyond the immediate horizon.
----
The world and how we work has been upended and completely restructured throughout the COVID-19 pandemic. Employers should stay flexible and agile, anticipating that these changes will persist and evolve into 2021, leaving their mark long after the vaccine is more widely available. Embracing technology, empowering employees to take on and adapt to new roles and guidelines and operating in real-time will be critical to success this year.
What is your team doing to prepare and thrive in 2021? Let us know on Twitter!