Crew Tips: How do I track my wages on Crew?
by Jennifer Chou, on September 19, 2019
Welcome back to Crew Tips, a bi-weekly series that gives you best practices and simple steps for making the most out of your Crew app, on both Android and iOS. In our last installment of Crew Tips, we talked about how to keep yourself focused with the option to temporarily mute chats.

This week, we're talking about the easy and private way to track the wages you've earned using the Wage Tracker feature on Crew. Wage Tracker has no connection to, or effect on, payroll and no other employee or manager has access to your earnings numbers.

Note: Crew Schedule must be added to use the Wage Tracker feature. Any Admin can add Crew Schedule from the Admin tab.

At the end of every week—whatever day that happens to be for you—the Wage Tracker box will appear in both the Team view and the Personal view of your Calendar tab. It will automatically update you on the number of your scheduled hours you've actually worked, and how much you've earned from that week, based on the hourly wage you'll input the first time the screen appears.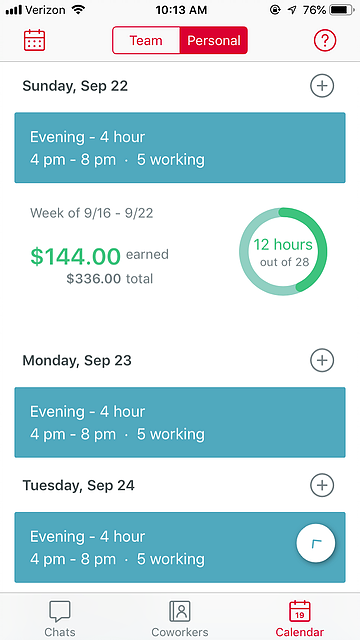 You can always edit the dollar amount per hour as necessary - depending on whether you're on iOS or Android, you may have an "Edit" button in the Wage Tracker box, or you may need to tap the dollar amount to pull up the edit field.

Apple Watch wearers can keep up with Wage Tracker right on the watch, complete with updates in real time.

Happy wage tracking! What else would you like to learn about? Let us know on Twitter using #CrewTips!

READ MORE : In case you missed last week's post and wanted to share it with your team, check it out here: How do I mute a chat on Crew?