COVID-19 sentiment: How does the frontline vs. board room diverge?
by Sean Oliver, on November 10, 2020
Last month, we shared some research we recently conducted on the state of workforce adaptability in 2020. To follow up on those findings, we thought we'd dig into some of the notable differences that we spotted between the frontline teams we surveyed for our Benchmark Report (e.g., associates, shift leaders, and floor managers) and their upper management (district or area directors, senior staff, and executives).
Whether you're a general manager at a single location or a chief operating officer for a large corporation, it's important to recognize that your perspective might diverge from some of the team members you're responsible for leading.
In general, the majority of the people we surveyed believe their organization has responded well to COVID-19:
82% score their business' response as "ideal."
74% remain confident or very confident in the company's ability to navigate the ongoing demands of the pandemic going forward.
62% trust their employer to do the right thing moving forward related to the pandemic.
However, while marks for performance are generally high, frontline teams remain a bit more skeptical. They are 15% less likely to claim confidence in their company's preparedness than senior management (70% vs. 85%), and only 79% score their organization's overall response to COVID-19 as 'ideal,' compared to 89% of corporate leaders. While 94% of senior management give their company top marks in areas like internal communications, only 72% of frontline teams agree.
Not surprisingly, information about safety procedures and guidelines was selected as one of the three most helpful types of internal communications by 85% of senior management. This was followed by 47% who emphasized employee training content. Meanwhile, just 21% of leaders believe that information about policy changes has been helpful during COVID-19, and only 12% indicate employee recognition as playing a role in navigating the crisis. Yet, when we asked frontline teams what type of information they'd like to see more of going forward, we found that 37% wanted more communications around policy changes related to time off and sick leave, and 38% are clamoring for employee recognition—especially amongst food service and healthcare workers. Other specific requests included information from employers about possible COVID-19 exposure incidents, testing options, and store-specific procedures or opening updates.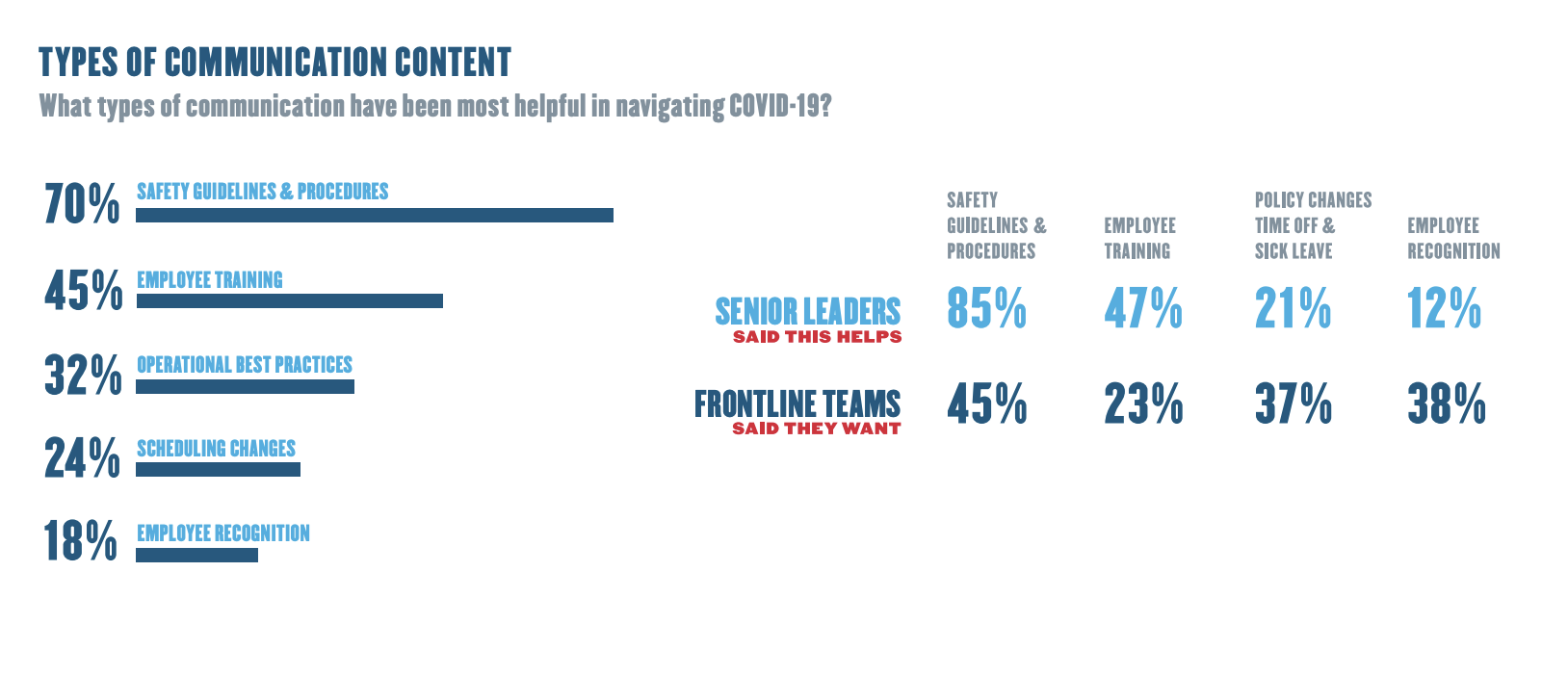 Other places where we often see disconnects between different segments of an organizational hierarchy are in the realms of two-way communication and recognition. Open dialogue between various levels of your workforce is often the first aspect to break down during times of high stress. While 85% of senior management believe they're doing a good job of listening to employee feedback during the pandemic, only 66% of frontline teams say that they have an effective way to communicate concerns to their employer.
And while recognition is a major driver of employee loyalty and performance, it's also the easiest responsibility for managers to overlook when under pressure. Only 18% of our respondents indicated that employee recognition content has been helpful during COVID-19. Among senior management, that percentage dropped to just 12%, compared to 21% of frontline teams. Similarly, recognition ranked in the bottom three responses to the question of 'Why have employees adapted better during COVID-19'?, with a mere 9% choosing 'recognition from peers' (12% of frontline teams vs. 3% of senior management). See below for the differing opinions on the key drivers of an organization's success in the wake of COVID-19.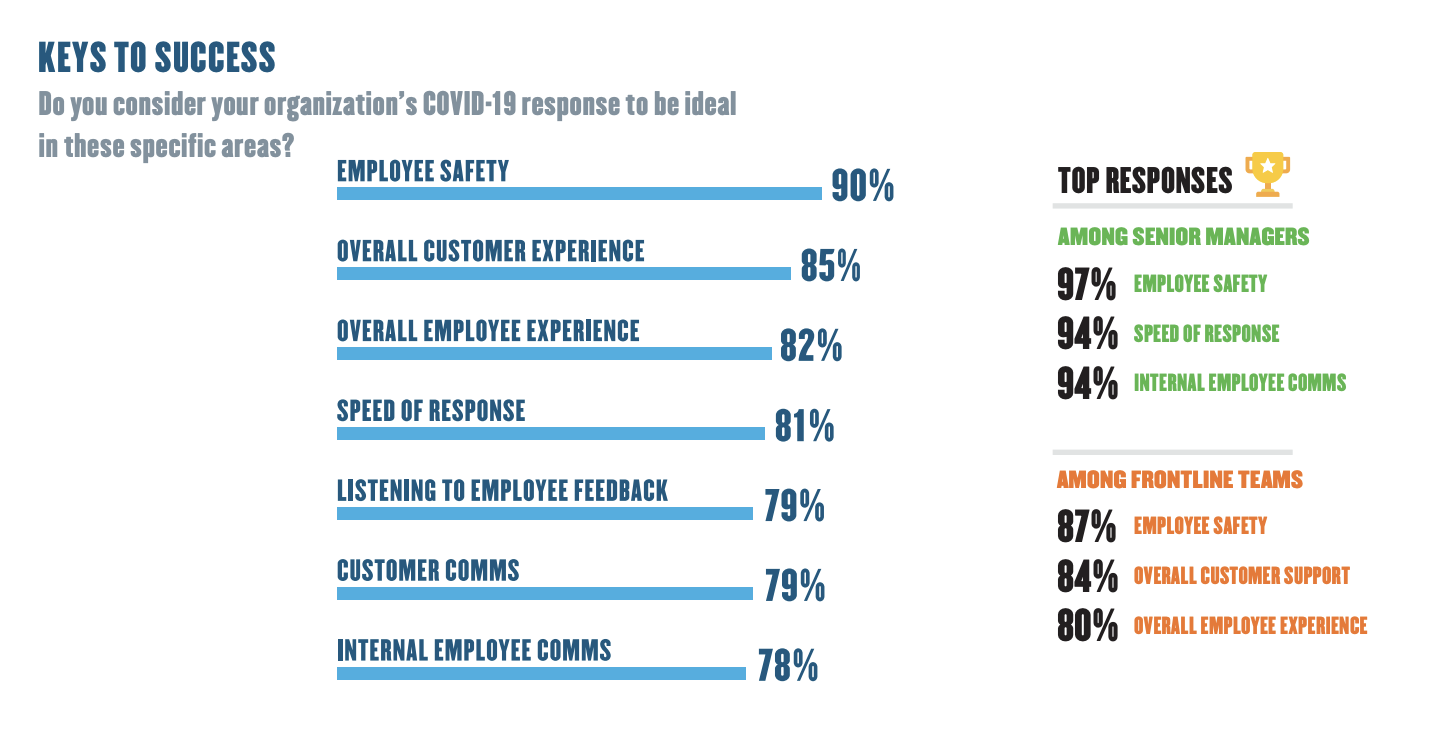 Even if you feel confident that your teams are as aligned as they can be in the current climate, no leader can afford to rest on their laurels at this pivotal point in the pandemic's trajectory. In order to mitigate further disruption during the months and years to come, and maybe even take advantage of the new digital opportunities that are emerging from this seismic shift, it's always a good idea to reflect on your approach to communications and people operations, and look for new ways to build alignment, agility, and resilience.
If you'd like to get a sense for how your own team compares with other businesses that are grappling with similar challenges, download our free benchmark report: "Adapting to thrive during COVID-19." In it, we share useful insights about organizations' most adaptable workforce segments, keys to success, and plans for technology adoption. As always, feel free to share your own stories with us on Twitter and check out Crew's handy COVID-19 resources.